From the Oxford-Stanford-Harvard trio of the world's top epidemiologists who suggest further lockdowns are simply insane, and that herd immunity is misunderstood.  Oxford's Dr. Gupta explains what is meant by herd immunity.  This is a truly enlightening short gem by one of the world's epidemiology superstars.
It has been known since the end of May, according to the CDC, that COVID is a 99.8% survival rate virus, similar to flu, which is 99.9%.    While it is true that severe cases of COVID can have serious after-effects, this is true of any serious case of a respiratory disease, including flu.  The overall survival rate should not be confused with the confirmed case survival rate.  According to WHO 80% of COVID infections show no symptoms before the body develops its immune response and is no longer infectious.
Pour a cup of tea and enjoy.
Original interview of Oxford-Stanford-Harvard trio of the world's top epidemiologists, authors of the Great Barrington Declaration against further lockdowns and social distancing.
More of What You Need to Know
CDC data published by Bloomberg News shows that for most age categories, the chances of dying of COVID are lower than the chances of dying of flu.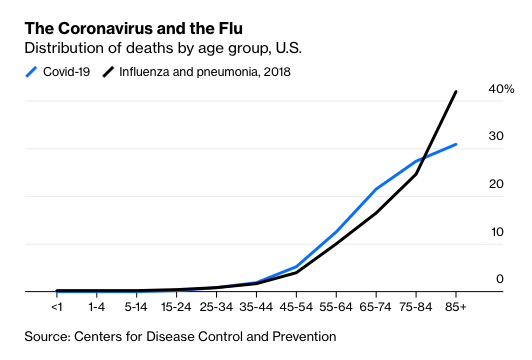 Mask study saying 130,000 lives could be saved by mask wearing was funded by Bill Gates.  Fauci and others are now hammering on the point that "130,000 lives" could be saved by everyone wearing masks.  Here is the study, conducted by University of Washington's Institute for Health Metrics and Evaluation (IHME): "Universal Mask Wearing Could Save Some 130,000 Lives In The U.S., Study Suggests."   Now who could be a the major funder of IHME?  You guessed it, Bill Gates.
In the Well Whaddya Know Corner...Flu nearly disappears afterDr. Deborah Birx of the US Coronavirus Task Force said in April:


"If someone dies with COVID-19 we are counting that as a COVID-19 death."
MedpageToday: "CDC: COVID-19 Wiped Out the Flu Around the World This Year"
And be sure not to miss these important posts…thanks for reading!
Young, Healthy COVID Vaccine Trials Volunteer Dies
Public Records Show That Bill Gates Funded Discredited "Professor Lockdown" Neil Ferguson in March, Whose Model Prompted "New Normal" Lockdowns
Former Chief Science Officer for Pfizer Says "Second Wave" Faked on False-Positive COVID Tests, "Pandemic is Over"
Dr. Carrie Madej Urgently Warns Against Coming DARPA HydroGel in COVID Vaccines, Total Control of Humans Through Artificial Intelligence
College Drop-Out Bill Gates Calls Stanford Professor Dr. Scott Atlas "Pseudo-Expert"