Left: New Mexico Gov. Lujan Grisham
A New Mexico news station has reported that lines outside of the food stores that remained open after shutdowns ordered by Gov. Lujan Grisham in Southeastern NM stretched a half-mile yesterday, as people panicked in search of groceries.  Reported COVID deaths for the year in NM are 1,350.  For context about 20,000 die in NM each year.  Meanwhile, in southern California, at least five sheriffs covering 17 million people have announced they will refuse to enforce Governor Newsom's curfew order.
Southeastern NM is the reddest corner of the state.
"ROSWELL, N.M. (KRQE) – The list of businesses that need to close for two weeks after four or more rapid response visits, is growing. In southeast New Mexico grocery stores in several communities had to close, some towns only have one grocery store open now, leading to long lines."
A shopper accused Grisham of causing "mass hysteria" with a "new edict."
Doctors and scientists have long been contending that the damage from lockdown polices could far exceed the damage of COVID deaths.  Many of them have united under the banner of the Great Barrington Declaration.
The doctors have bemoaned the fact that what began as a public-spirited effort to "flatten the curve" so that hospitals would not be overwhelmed, has become a blatant overthrow of basic constitutional rights based on "new cases."
Wheelchair bound and elderly with no one to shop for them waited in the same lines, or simply did without.  The closing of food stores raises the specter of unknown numbers of quietly desperate people starving, in an attempt to keep numbers down which are being challenged as not all being primarily COVID deaths, or as not being true positive "new cases."
At the same time, the death rate in Sweden, which never locked down or issued mask orders, is 20% lower than the death rate in the US, and trending sharply downward compared to other countries which did lockdown.
Below: Sweden, lowest deaths per million with no lockdowns, no masks (click to expand image)   
Below: No mask, no lockdown Sweden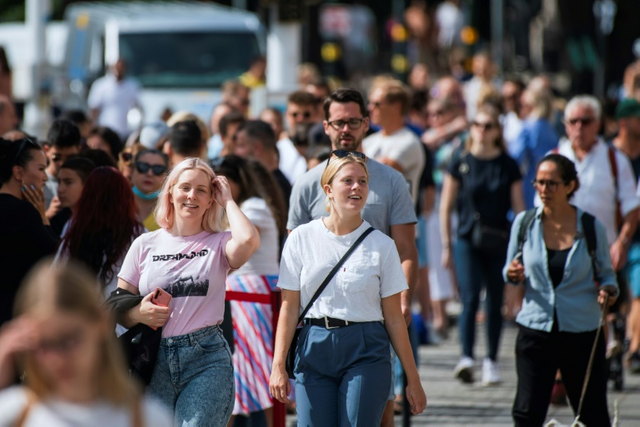 CDC data shows that new cases tend to rise as numbers of tests rise.
Below: COVID US testing (click to expand below image)  Source: Worldometers
Below COVID US cases (click to expand below image)  
Source: Worldometers 
Also, in Florida, where Gov. Ron DeSantis ended all lockdown policies in September, along with masks, the COVID death rate is in decline.
Below: Bar in Florida after lockdown lifted in September  Source: NY Post
In a recent interview with an attorney who is mounting a challenge to the legality of lockdown policies, a former chief science officer and vice president of Pfizer suggested that respiratory illness deaths now seen rising are being mislabeled as COVID.  It is normal at this time every year for flu deaths to rise.
Multiple Sheriffs in Southern California Say They Will Not Enforce Newsom's Statewide 10pm Curfew
The American Thinker reports:
"Sheriffs in five Southern California counties with a total population of 17.25 million people — equivalent to the fifth most populous state — are defying that state's governor.  They will not arrest people for violating the statewide curfew that Governor Gavin Newsom has imposed starting today, apparently on the belief that the virus wakes up and goes out at 10 P.M."
The sheriffs join other sheriffs in northern California, including Sacramento where Gov. Newsom lives, in refusing to enforce the order.  This is the largest number of sheriffs, covering a vast population, who have announced defiance of governors' lockdown orders.
Newsroom was recently caught violating his own COVID guidelines by having an indoor birthday party for a lobbyist friend, without masks or any form of distancing, after banning indoor Thanksgiving gatherings with more than three families, for more than two hours.   The dinner party's guests included two top officials of the California Medical Association, Dustin Corcoran, and Janus Norman.
CA Gov. Gavin Newsom at dinner party
In California and in most western states, sheriffs are duly elected constitutional officers in their own right, and can have a tense relationship with governors.
It has been known since the end of May, according to the CDC, that COVID is a 99.8% survival rate virus, similar to flu, which is 99.9%, obviating the need for any vaccine whatsoever.   While it is true that severe cases of COVID can have serious after-effects, this is true of any serious case of a respiratory disease, including flu.
CDC data published by Bloomberg News shows that for most age categories, the chances of dying of COVID are lower than the chances of dying of flu.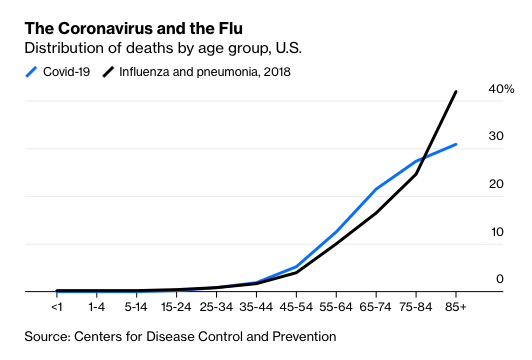 Despite COVID being commonly compared to the 1918 Spanish Flu, this is not remotely the correct comparison.  The correct one would be the 1957 Asian Flu pandemic or the 1968 flu pandemic, which took similar tolls per capita in the US.  In 1957 116,000 mostly elderly Americans succumbed, with the population of the US half of what it is now.  There was never a whisper of a lockdown or masks.  Indeed, unless one were a worker in a nursing home, most Americans never even knew it was taking place.
Below: former chief science officer and vice president of Pfizer Dr. Mike Yeadon
PLEASE READ NEXT:
FUN FACT:
Mask study saying 130,000 lives could be saved by mask wearing was funded by Bill Gates.  Fauci and others are now hammering on the point that "130,000 lives" could be saved by everyone wearing masks.  Here is the study, conducted by University of Washington's Institute for Health Metrics and Evaluation (IHME): "Universal Mask Wearing Could Save Some 130,000 Lives In The U.S., Study Suggests."   Now who could be a the major funder of IHME?  You guessed it, Bill Gates.