WSMV News 7 Nashville reports this week that a North Carolina woman lies paralyzed after taking the Pfizer mRNA injection, after she reached out to the station to tell her story. Per what has become routine policy for both Pfizer and Moderna, the company denies any connection to its injection.
The news team reveals that there have been at least 7 cases of paralysis reported after the Pfizer shot, in the full, unedited television report which can be seen here.
The new team duly goes to bat for Pfizer in the report, arguing that reports of paralysis, only seven, are rare. The news team neglects to mention the now over 3,000 deaths reported to the CDC's Vaccine Adverse Events Reporting System (VAERS), nor that one-third of the deaths were within 48 hours of the injections, in healthy adults reporting no pre-existing conditions. Nor the thousands of reactions which have been reported which are debilitating enough to render victims "unable to perform normal daily activities" or "unable to work."
COVID is estimated by the CDC to have an overall recovery rate of 99.8%, similar to flu, and 99.98% for ages under 50.
Nevertheless, more and more colleges are requiring that students take the still experimental mRNA agents, as a condition of returning to school. Under age 20 the chances of dying of COVID are infinitesimal.
Although it is frequently compared in the media to the Spanish Flu of 1918, in global deaths per capita it is nowhere near, and more similar to the 1957 and 1968 flu pandemics, which few in the general population even knew about and never prompted talk of masks or lockkdowns.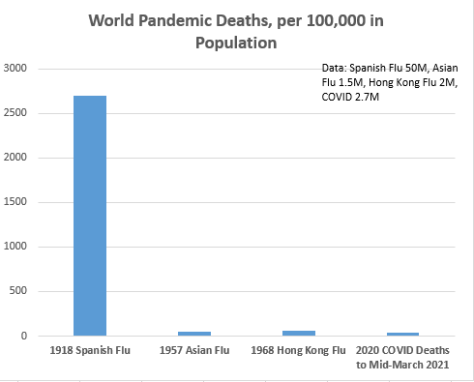 In other news:
A growing number of doctors are warning of the long-term dangers of novel technology mRNA biological agents for COVID.

In Los Angeles, mentally challenged people are being forcibly injected with the "vaccines," with police assisting.


A former Pfizer Vice President and Chief Science Officer for 16 years has said he is now convinced, as a result of "demonstrably false" information repeated by governments and media, that what he considers dangerous mRNA agents are being used in a possible plan to accomplish a massive depopulation of the planet.
A German attorney who practices in California, who successfully prosecuted a $130 million case against Deutsche Bank, has opened a Crimes Against Humanity international lawsuit against various parties involved in governments' responses to the COVID pandemic.

Dr. Anthony Fauci has yet to answer questions posed to him in a multi-part investigation by Hoover Institution fellow Steve Hilton, over his role in financing "gain-of-function" research on bat coronaviruses at China's Wuhan lab.


In an conflict of interest when reporting (or more accurately, NOT reporting) on COVID injection adverse events, Big Pharma now surpasses car makers in TV ad sales. These are the news stations which viewers rely upon to report these events.

CRIPPLING COVID VACCINE REACTIONS, OVER 1,600 POSSIBLY-RELATED DEATHS AS OF MID-MARCH (view in Bitchute)
More Important Reading…