College drop-out billionaire Bill Gates, the world's leading proponent for wider vaccination and who holds no medical, advanced, or college degree, has attacked Trump coronavirus advisor Dr. Scott Atlas as a "pseudo-expert."
Dr. Atlas is a senior fellow at the Hoover Institution in California, with his medical degree from the University of Chicago School of Medicine, and is a professor at the Stanford University Medical Center.
Dr. Atlas has emerged as a well-known opponent of further lockdowns, saying the medical equipment infrastructure, including ventilators, required to handle any spike in hospitalizations in the US is now sufficient. Dr. Atlas forcefully argues that lockdowns are now doing more harm than good (below.)
It has been known since the end of May, according to the CDC, that COVID is a 99.8% survival rate virus, similar to flu, which is 99.9%. While it is true that severe cases of COVID can have serious after-effects, this is true of any serious case of a respiratory disease, including flu.
Atlas has said that continuing lockdowns even as death rates fall, even as new cases sometimes spike, borders on being a "crime against humanity."
A crime against humanity is a legal term for the crimes committed by the Nazis in the death camps during World War II. They may be prosecuted by any duly sworn prosecutor in any nation that is signatory to the Geneva Conventions.
The Gates Foundation has found itself mired in controversy over vaccine trials in the Third World, once in India when thousands of girls fell seriously ill, and some died, after being subjected to experimental vaccination trials in which the subjects and their families could neither read nor write to give proper consent.
The Economic Times of India in the article "Controversial vaccine studies: Why is Bill & Melinda Gates Foundation under fire from critics in India?"
"The committee found that…In many other cases, thumbprint impressions of their poor and illiterate parents were duly affixed onto the consent form. The children also had no idea about the nature of the disease or the vaccine."
The trends cited by Dr. Atlas can be seen at the website Our World in Data. In charted data, a close correspondence can be seen between testing spikes and new cases spikes (below.)
CDC data published by Bloomberg News shows that for most age categories, the chances of dying of COVID are lower than the chances of dying of flu.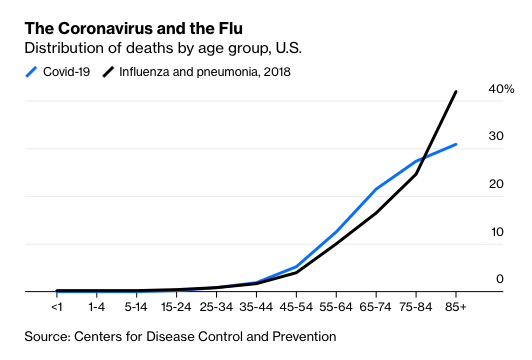 Dominating media coverage, on practically an hourly basis, are announcements of new cases, followed by announcements of deaths. The latter are not put into the contexts of either deaths by all causes in the same time period, or the trend in COVID deaths over time. Each week, nearly over 50,000 people die of all causes in the US, anywhere from about 100 a week in a sparsely populated state like Alaska, to 5,000 per week in California.
RELATED RECOMMENDED READING
Young, Healthy COVID Vaccine Trials Volunteer Dies
Public Records Show That Bill Gates Funded Discredited "Professor Lockdown" Neil Ferguson in March, Whose Model Prompted "New Normal" Lockdowns
Former Chief Science Officer for Pfizer Says "Second Wave" Faked on False-Positive COVID Tests, "Pandemic is Over"
Dr. Carrie Madej Urgently Warns Against Coming DARPA HydroGel in COVID Vaccines, Total Control of Humans Through Artificial Intelligence