Above image: Amanda Rich, 23 Years Old with Child, family believe death caused by COVID vaccine (Husband Died "Suddenly" Also, Months Later) Reported in Health Impact News. Father's GoFundMe page. Amanda obituary.
As thousands of doctors and scientists continue to call attention to what they say are grave short-term and long-term dangers of the still experimental COVID mRNA injections, commonly referred to as "vaccines," although that term is disputed, the CDC database which tracks deaths possibly linked to the Pfizer/Moderna injections shows a 10,000% increase over the number of deaths typically reported each year for all other non-COVID vaccines combined. [Links to doctors' calls for halts to mass "vaccinations," partial list: 1, 2, 3, 4, 5. ]
Below: Reports to VAERS of vaccine deaths skyrocket since first COVID shot. Sources: Village News, MedAlerts.org (CLICK FOR LARGER IMAGE)
Iceland has halted Moderna shots completely, across all ages. Taiwan has banned the use of the Pfizer shot for 12 – 17 years of age over heart inflammation. A growing number of countries have suspended the shots due to heart inflammation or blood-clotting issues, for various age categories. They were all deemed "safe and effective" from the start, after the most rapid roll-out in history. No one knows what else will be announced, but only after millions have taken the shots.
________________________________________________________________________
________________________________________________________________________
Even the CDC is still evolving its position on the safety of the injections. This week, one year and 14 million shots later in the US, the CDC announced that it was holding a special meeting to decide whether to "get rid" of Johnson & Johnson vaccine over new blood clot data (Washington Post.)
Even though Pfizer, Moderna, and J&J all include warnings in their inserts that many people with certain allergies and conditions "should not" get the shots, the Biden administration is ordering OSHA fines on employers for every "unvaccinated" employee.
In October, a top peer-reviewed science journal, Toxicology Reports, published a study, entitled "Why are we vaccinating children against COVID-19? – which concluded that the true number of COVID vaccine dead may so far actually be in the "hundreds of thousands."
Below: Issue cover, Toxicology Reports
But bewilderingly, the information from official sources and a prestigious journal has not been reported once by any major media outlet, which sticks relentlessly to the slogan "safe and effective," and presents the news as if the only question is how to get more people to take the experimental injections.
All COVID mRNA injections are still in Phase III clinical trials. The earliest that any of the Phase III trials will be complete is late 2022.
Below: images from the official clinical trials protocols filed with the FDA by Moderna and Pfizer, showing that the trials for safety and efficacy will not be completed until the end of 2022 at the earliest. (source: Moderna human clinical trials protocol filed with FDA) (Click for larger image)
Below: Moderna protocol describing 2 years of study for medically attended adverse events, through end of 2022 (source) (Click for larger image)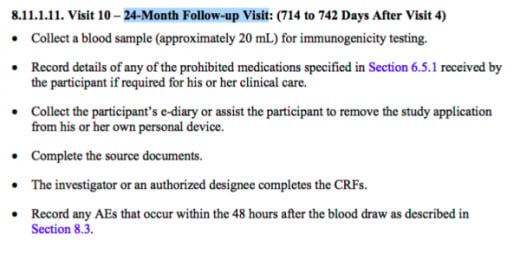 Nevertheless, a number of city governments such as Philadelphia are mandating that people take the shots before being allowed into indoor public spaces. In New York City, children as young as five must prove that they have been given the shots. Despite a strong statement this month by a group of doctors of the highest caliber warning that the shots for children represent "all risk and no benefit," in the words of Dr. Paul Alexander, a former adviser to the World Health Organization and the Department of Health and Human Services.
Resistance Strong and Rising
But daily actions around the world show a growing resistance to taking experimental drugs for 99,9% recovery rate disease, according to Stanford epidemiologist Dr. John Ioannadis. Common flu is 99.9% also. In New York city this week, a non-compliance protest broke out when decorate US Armed Forces veterans were arrested after refusing to show "vaccine passports" at a restaurant, after asking to be served and refusing to leave. (Below)
Below: Italy Holds 'March of the Vaccine Dead' in Memory of Those Killed By COVID mRNA Injections
Doctors Blast "Safety" of "Vaccines"
No data on the long-term effects of the shots is available for the simple reason that such trials are still in progress. Dr. Peter McCullough, a noted cardiologist, who has testified on COVID treatments such as Ivermectin before the US Senate, recently said that "an extraordinary number" of young people will suffer "permanent damage" from the injections, and that the vaccine heart damage is far worse than any effects of COVID.
In a bombshell interview this week, Dr. Mccullough accused the mainstream medical profession of the "suppression of early treatment" of COVID in order to drive the public toward a vaccine regime. He said he believed there was a:
"very comprehensive suppression of early treatment in order to promote fear, suffering, isolation, hospitalization, and death. And it seemed to be completely organized and intentional in order to create acceptance for and then promote mass vaccination."
Dr. Peter Mcullough, "comprehension suppression of early treatment" of COVID (view at Bitchute)
Correlation Does Not Equal Causation, But it Does Equal a Warning Signal
In a typical year, between 120 and 200 non-COVID vaccine deaths are reported to the CDC's Vaccine Adverse Event Reporting System (VAERS) about half of which are flu shots. Between 1997 and 2013 the average number of vaccine deaths per year reported to VAERS was 167. In the course of the past year, since the first COVID shot was given outside of clinical trials on December 14, 2020, VAERS reports of deaths following COVID shots are reaching 20,000, or over 10,000% higher than all other vaccine reports for a typical year.
Established in 1990, in the exact words of the CDC, VAERS is an:
""early warning system to detect possible safety problems in U.S.-licensed vaccines."
In the paper "Why are we vaccinating children against COVID-19?" a group of international scientists write in the peer reviewed Toxicology Reports,:
"VAERS historically has under-reported adverse events by about two orders-of-magnitude, so COVID-19 inoculation deaths in the short-term could be in the hundreds of thousands for the USA for the period mid-December 2020 to the end of May 2021…potentially swamping…COVID-19 deaths.
The pharmaceuticals industry and its academic henchmen have been engaged in a major campaign to downplay the significance of the VAERS data, by, in exasperated tones, repeating the mantra that "correlation does not equal causation." One example is the McGill University article "Don't Fall for the 'VAERS Scare' Tactic," which states tiredly:
"It has by now been said a thousand times, but it bears repeating a thousand more: correlation does not necessarily imply causation."
Another "fact check," by Reuters, is a transparent hatchet job as, at the outset, the title misrepresents the question, by proclaiming: "Fact Check-VAERS data does not prove thousands died from receiving COVID-19 vaccines." (emphasis added)
Correlation does not prove causation, and no one said that it does, a strawman. But neither was the VAERS established as a pointless exercise in reporting deaths and injuries which could have nothing to do with the vaccines that immediately precede them. In one significant sample of deaths, one-third occurred within 48 hours of the needle.
Below: Days elapsed after vaccination in VAERS registered deaths, between June 18 and June 25, 2021, almost all COVID vaccines. (source)
For all the risks of the injections which is never reported by the media, the fatality rate of COVID, overwhelmingly borne by the elderly and frail, is nowhere near the fatality rate of past diseases, as can be seen in the chart below,
Doctors and scientists dissenting from the official "safe and effective" story are saying the COVID injections are in fact the most dangerous vaccines in history.. See: "Mayo Clinic-Trained Pathologist, Other Scientists, Explain How "Vaccine" Injections Are Killing Us, as Congress Exempts Itself from Vax Mandates"
A small number of institutions seem to have emerged as repeat offenders in creating or boosting flawed science to support the official COVID narrative, such as McGill University, Johns Hopkins Medical School, and heavily Bill Gates-supported University of Washington. It should be remembered that the Nazi Holocaust was first and foremost enabled by medical doctors, who labeled the "unfit" and Jewish "disease carriers."
There is, in fact, a federal program for claimants of COVID injection deaths and injuries to apply to for compensation, similar to the Vaccine Injury Compensation Program, which has paid out over $4 billion since 1986, mostly to victims of flu shots. That program is the Countermeasures Injury Compensation Program, or CICP, but it has been deemed trivial by trial lawyers, a "black hole" with "no transparency, no court, no judge, and no right to appeal."
However, the resistance to all manner of coercion and force being employed to make all people who are not exempt, such as congressmen and their staffs, from purported "vaccines"for a recovery rate for a 99.98% recovery rate virus for people under age 50, is strong.
The best estimate of the overall infection fatality rate (IFR) of COVID is .15%, according to Stanford epidemiologist Dr. John Ioannadis. Common flu is .1%.
Above chart source: Bloomberg News
In the below video (full video here) a former Chief Science Officer and VP for Pfizer for 16 years lays out why the injections should be halted until much further study and understanding of them.
Below: Dr. Mike Yeadon, Chief Science Officer and VP for Pfizer for 16 years, "I accuse the scientific advisors to my government of mass murder." Preview of Del Bigtree Interview, June 2021(view at Bitchute) (FULL INTERVIEW)
Below: Netherlands, anti-COVID vaccine/passport mandate protest November 21 (view on Bitchute)
Coming Off the Teletype…
________________________________________________________________________
Spotlight: Amanda Rich, 23 Years Old with Child (Husband Died "Suddenly" Also, Months Later)
Reported in Health Impact News. Father's GoFundMe page. Amanda obituary.
On July 2 2021 my daughter Amanda Rich passed away from a blood clot which we have every reason to believe was linked to the Covid-19 vaccine.
Amanda leaves behind a 19 month old daughter Allie Grace.at the time of her death Amanda was in the process of getting her vet tech license so she could support herself and her daughter! As most 23 yr old young adults she had made no plans to die , only to live and give her daughter the best she possibly could. With no life insurance the funeral cost alone was 8k and that leaves not to put in a trust for her beautiful daughter and the life Amanda wanted for her! As grandparents we will do the best we can to fulfill that dream. All money donated will placed in the minor fund for the expenses of raising Allie Grace and her college fund! Anything helps thank you and god bless!
November 30, 2021 by John Rich, Organizer This is John's wife Mona. I wanted to update everyone who has given and thank you all from the bottom of my heart. On November 9,2021 just 4 months and a week after Amanda passed I lost her daddy John Rich. He was 44…Just as suddenly and unexpectedly as Amanda. He apparently suffered a massive heart attack when he stood up from his desk to leave work for the day. Much like Amanda he was gone in seconds.
________________________________________________________________________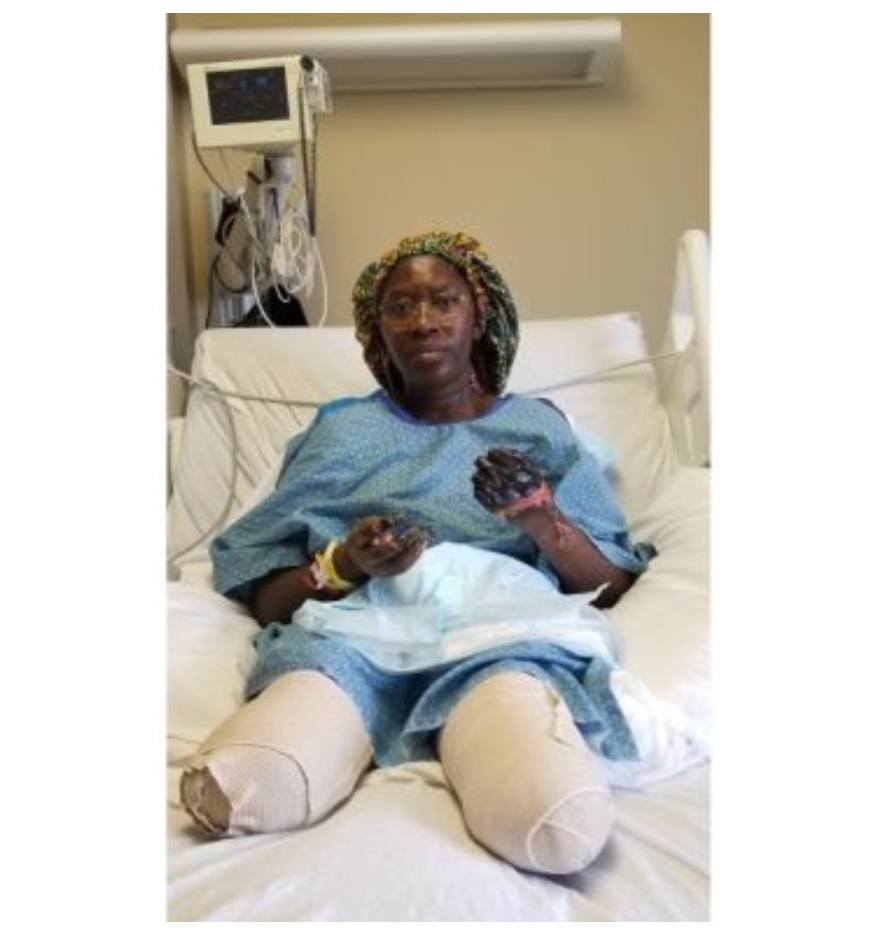 _____________________________________________________________________________
The latest data from a respected statistics website shows that, globally, the number of deaths from all causes for 2020 was no higher than expected, given previous years' totals.
That is not to say there was no pandemic in certain places. But overall, globally, no more people died than were expected to die in 2020, under normal circumstances…MORE
Dr. Robert Malone, who did his work on mRNA technology while at the Salks Institute, and who did post-doc work at Harvard Medical School, said in an interview:.
"Look Tony, there are over half a million deaths in the United States for this virus, completely unnecessary because the federal government has very actively blocked the ability of physicians to provide lifesaving medications early in the infection.…" MORE
The Moderna and Pfizer's fact sheets warn that "many" people with allergies to a common ingredient in soaps and lotions "should NOT" take the drugs. The fact sheets also contain alerts to the immunocompromised and others… MORE
Sudden Surge in Stillbirths and Menstrual Changes, (Fox 26, November 2021) (Dr. Daniel Nagase on surge in stillbirths in Canada, interview)
74% of those testing positive for COVID-19 in Massachusetts outbreak were vaccinated (Marketwatch, August 20201)
American Heart Assoc – 97.8 percent of people under 21 developed myocarditis after jab, (AHA Journals, December 2021)
Bloomberg: More than 100,000 "breakthrough" COVID cases in fully vaccinated people
Judge holds hospital in contempt of court for refusing ivermectin to COVID patient on ventilator, ignoring court order (Blaze, December 2021)