US Ticker November 2021: Official CDC Vaccine Adverse Events Reporting System, COVID "vaccine" possibly linked deaths: 18,000+. Hospitalizations: 88,000+. Permanent disabilities: 28,000+ Recovery rate for COVID is 99.98% recovery rate for people under age 50, and 99.8% overall.
Above chart source: Bloomberg News
Now Austria Busting Out..No Mandatory Suicide Shot Massive Protest!
And today…Hamburg, Germany…
Netherlands last month, No Mandates! Epic Braveheart charge!
Iceland has halted Moderna shots completely, across all ages. Taiwan has banned the use of the Pfizer shot for 12 – 17 years of age over heart inflammation. A growing number of countries have suspended the shots due to heart inflammation or blood-clotting issues, for various age categories. They were all deemed "safe and effective" from the start, after the most rapid roll-out in history. No one knows what else will be announced, but only after millions have taken the shots.
________________________________________________________________________
________________________________________________________________________
India Bar Association Files Criminal Case Accusing Bill Gates of "Mass Murder" With COVID Vaccines
Citing a legal doctrine which holds that, by definition, "conspiracies are hatched on secrecy" and "therefore…The offence can be proved from circumstantial evidences," the Indian Bar Association has brought the world's first criminal case naming Bill Gates as a co-conspirator in "a well­ orchestrated conspiracy" running "various false narratives" and making "false and misleading claim(s) that vaccines are completely safe."
The complaint cites the Indian Supreme court case of Raman Lal Vs State 2001 Cri. L. J. 800, which ruled that:
"an inference of conspiracy has to be drawn on the basis of circumstantial evidence only because it becomes difficult to get direct evidence on such issue – The offence can only be proved largely from the inference drawn from acts or illegal omission committed by them. in furtherance of a common design.."
Gates' fingerprints can now be seen a broad range of elements which contributed to the narrative leading to the conclusion that vaccine mandates and digital "passports" are a necessary part of the "new normal," along with the unfathomable tools for repression they embody.
Early on, Gates denounced a group of medical doctors for making the "outrageous" claim that careful use of hydroxychloroquine could short-circuit the pandemic, a view shared by eminent Yale epidemiologist Dr. Harvey Risch. Gates has no medical degree nor did he even graduate from college. Gates funded the professor whose "lockdown" theory still holds millions in virtual imprisonment, worst of all in Australia and Austria.
A study concluding that "130,000 lives" would be saved by more people wearing masks, oft-recited by Anthony Fauci, was funded by a University of Washington affiliate heavily funded by Gates.
Gates and company's money also goes to many of the "fact check" groups which "debunk" the many bad things said about him. Gates has funded a "quantum-dot tattoo" technology, a kind of barcode for humans, and is behind the digital identification program ID2020, through it "partnership" with Gates' global vaccination lobbyist the GAVI Alliance.
Gates' company Microsoft, of which the elite, Rockefeller, Rothschilds-controlled investment houses Blackrock and Vanguard are now controlling shareholders, holds a patent for a truly dystopian system of tying humans to a crypto-based system of rewards and punishments, similar to China's "social credit system." In May 2021, a senior Chinese Communist Party intellectual that China had defeated America in a "biological war."
It has been remarked that US financial elites would benefit by imposing a Chinese model of social control upon Americans, and make their own pacts with the Chinese Communist Party. This is one reason Anthony Fauci's role in directing NIH funds to the Chinese Wuhan lab for bat virus, gain-of-function research, is so controversial.
Crippling COVID injection reactions (view in Bitchute)
Below: Chinese "click farms," possibly used to manipulate public opinion about COVID vaccines. See: "What are click farms? A shadowy internet industry is booming in China" (Yahoo News) (view at Bitchute)
Screenshot from above video
Criminal Case Petitioner Was Healthy 23, Forced to Take Injection to Get to Work
The petitioner in the criminal complaint is the mother of deceased Shri Hitesh Kadve, age 23 years, who:
"lost his life due to act of willful commission and omission attributable to some public servants who are misusing their position to bring policies to help the pharma mafia and thereby [are] responsible [for] mass murders."
"Mafia" in this context refers to, as Merriam-Webster describes, "a group of people of similar interests or backgrounds prominent in a particular field or enterprise." US law echoes Indian law in its view toward the requirements for proving a conspiracy. In the 1993 Hofstra Law Review article "RICO's Conspiracy Agreement Requirement…" the author writes:
"It is important to note that the agreement to join the conspiracy may be proven by circumstantial evidence, just as a RICO conspiracy can."
According to his mother, Shri Hitesh Kadve was coerced into reluctantly submitting to the Astrazeneca Covishield injection in order to access public transportation to get to his job. The criminal complaint says that in no way was he informed of the dangers and risks of the injection.
On the contrary, the narrative put forth by official sources and repeated by the media follow the statements of Dr. D.G. Somani, Drug Controller General of India, a sort of Indian Anthony Fauci. Somani, who is one of the defendants in the case, said the vaccines are "110% safe."
In an interview on January 4, 2021, Somani said:
"We'll never approve anything if there is slightest of safety concern. The vaccines are 110 per cent safe".
However, the complaint notes, by the time Kadve was coerced into taking the injection in order to keep his job, at least 18 countries had banned Covishield for safety reasons, a fact never made known to Kadve.
Other rudimentary "informed consent" information not given to Kadve, which is cited in the complaint, were an official WHO warning on the side effects, Indian government determinations on deaths conclusively linked to the shot, and the manufacturer's own fact sheet. (See: "Pfizer and Moderna Warn That "Many" People "Should NOT Get" the Shots, Under Any Circumstances")
Like both the Pfizer and Moderna COVID products, Astrazeneca Covishield is still in Phase III clinical trials for safety, which will not be complete until February 14, 2023, the "study completion date." This is defined as:
"The date on which the last participant in a clinical study was examined or received an intervention/treatment to collect final data for the primary outcome measures, secondary outcome measures, and adverse events." [emphasis added]
Since "adverse events" data, i.e. safety issues, is not complete until February 2023, no one can possibly make any scientifically conclusive determination yet that the drug is "safe." A review of about a thousand US COVID vaccine deaths reported to the CDC's Vaccine Adverse Event Reporting System (VAERS) showed that one-third of the deaths took place within 48 hours of taking the needle, and most of the rest not long after.
The complaint names Bill Gates as a co-conspirator with Indian magnate Adar Poonawalla, owner and CEO of the Serum Institute, a private biotech which manufactures Covishield under license with Astrazeneca. Foundations controlled by Gates have given $750 million to the private Serum Institute, in order to vastly increase the number of doses available in a country with about the same population as China. The rushed roll-out furthers Gates' long-held goal, now implemented in India, of a digital ID, which can then be tied to all other services necessary to conduct a "normal" life, including banking and travel.
Total Control and Submission of Non-Elite Humans is the Goal
In his book "The Fourth Industrial Revolution," the founder of the World Economic Forum (WEF) Klaus Schwab, a friend of Gates who once named Gates to his Young Global Leaders (YGL) program, writes openly of a system in which people have become commodities, to be monitored and tracked, with no rights to privacy. Schwab writes:
"Any package, pallet or container can now be equipped with a sensor, transmitter or radio frequency identification (RFID) tag that allows a company to track where it is as it moves through the supply chain—how it is performing, how it is being used, and so on….In the near future, similar monitoring systems will also be applied to the movement and tracking of people." [emphasis added]
The motto of YGL is "Shaping the Future." WEF is working with Bill Gates' ID2020 initiative, which would provide non-elite humans with a unique identification "tag." Other names in the group read like a Who's Who of pandemic oppression, including Mark Zuckerberg, Justin Trudeau, Lynn Forester de Rothschild (whose family is a major owner of the mass media through Blackrock Investments,) Nathaniel de Rothschild, and California Governor Gavin Newsome.
Below: Klaus Schwab's Young Global Leaders website graphics
Below, Manitoba, Canada COVID isolation camp, with barbed wire fence, authorized by Young Global Leader alum Justin Trudeau (source: "A Look At A Secret Canadian COVID Camp") Also see: "Quebec Sends "Uncooperative" Citizens To Secret Quarantine Camps"
WEF is a billionaires' think-tank which is fond of discussing future scenarios for the human race. (See: Inventor of mRNA Vaccine Platform Accuses "Great Reset" Mastermind Klaus Schwab of "Racketeering" with Pandemic)
Gates: Identification "certificates" (View at Bitchute)
Bill Gates arriving at the 2019 meeting of Schwab's World Economic Forum in Davos, Switzerland
The complaint asserts that the facts mean that the accused:
"therefore…are in the category of 'Mass Murderers'. The minimum punishment for such offences is death penalty."
________________________________________________________________________
________________________________________________________________________
Injection Victims Marches Breaking Out
The Indian legal action takes place as marches and demonstrations take place in honor of the 'vaccine dead,' people killed by the only short-term tested COVID biological agents. The average time for bringing any new drug or vaccine to general use is 10 years, including typically three to six years of animal trials before human testing.
Below: Italy, November 30, March of the Vaccine Dead
Below: Families of South Korea's COVID Vaccine Victims Mourn Loved Ones During Mass Memorial Service
This October, to an absolute major media blackout, the prestigious, peer-reviewed science journal Toxicology Reports, published a study concluding that the true number of US dead as a result of the COVID injections may in the "hundreds of thousands." In the paper "Why are we vaccinating children against COVID-19?" the scientists write:
"COVID-19 inoculation deaths in the short-term could be in the hundreds of thousands for the USA for the period mid-December 2020 to the end of May 2021…potentially swamping…COVID-19 deaths.
Informed Consent
Spelling out what "informed consent" consist of, the Indian Bar Association cited case law which describes:
"The doctor explains the options to the patient, setting out the potential benefits, risks, burdens and side effects of each option, including the option to have no treatment. The doctor may recommend a particular option which they believe to be best for the patient, but they must not put pressure on the patient to accept their advice. The patient weighs up the potential benefits, risks and burdens of the various options as well as any non-clinical issues that are relevant to them.
This is the proper procedure "even if the risk is very small." The definition of informed consent is similar in all Western jurisprudence.
However, in many COVID injection locations, in the US as well as in India, the decision to put novel, experimental substances into the body looked nothing like informed consent, especially for a novel technology, mRNA, the inventor of which is staunchly against all COVID vaccine mandates and passports.
In fact many vaccinations in the US had people lined up like cattle and had no more interaction than shown in the video below. This would seem to constitute medical malpractice on the part of providers administering novel, Phase III trial shots in this manner, who are provided with a list of items to be discussed, possibly disqualifying, before the procedure.
Below: Images from Moderna Fact Sheet, revised June 24, 2021, citing protocol for providers before injections (source)
The Nuremberg Code
The principles on which the Indian Bar Association (IBA) criminal complaint turns were first embodied in the Nuremberg Code, which states that no medical experimentation can take place without fully informed consent, and that such consent cannot be obtained through coercion. Workplace coercion is recognized in law as a form of coercion, and is defined by human resources expert Shonna Waters, PhD, as tasks which are not part of the "job description."
Other arguments made in the IBA complaint, Kiran Yadav vs. State of Maharashtra et al, are:
The state has no basis for discriminating between "vaccinated" and "unvaccinated," since the "vaccinated" can catch and pass on COVID, the same or more than the "unvaccinated." The exhibits submitted include the reports:

"Mumbai: 29 MBBS students at KEM hospital test positive for COVID-19, 27 were fully vaccinated," The Free Press Journal, September 30, 2021

"More than half of hospitalised Covid-19 cases among vaccinated in Bengaluru," Deccan Herald, August 3, 2021

Also see: "CDC report shows vaccinated people can spread COVID-19," MSN July 30, 2020
By omission, the authorities are trying to destroy evidence of natural immunity, and thereby to help vaccine syndicate. Overwhelming evidence shows that natural immunity from prior COVID is far stronger and far longer lasting than any vaccine immunity, even against "delta" and other variants. Exhibits:

"81 Research Studies Confirm Natural Immunity to COVID 'Equal' or 'Superior' to Vaccine Immunity, (with links to all studies,)" by Paul Alexander, PhD.

"Natural immunity to covid is powerful. Policymakers seem afraid to say so," by Dr. Marty Makary, Washington Post, September 15, 2021
The complaint cites an exhibit which states "There are other more effective, harmless and economical medicines available for curing the people with covid-19 infection." This refers to, among other treatments, Ivermectin. The complaint references the study: "Evidence to Recommend Ivermectin" by Doctors for Life – Brazil. (See: As Cases Rise, Inventor of mRNA Vax Says Fauci Killed 500,000 People by Blocking Ivermectin/HCQ)
In an interview last week, Indian Bar Association attorney Dipali Ojha said that her organization is being contacted by attorneys from around the world, and that the case is being closely watched by medical providers and others who have misrepresented the safety of the injections.
Vaccine makers may have established legal immunity from lawsuits due to unprecedented favorable treatment by governments. Providers dispensing the drugs, or employers mandating them, have not.
Ojha says the case may serve as a model for a flood of lawsuits and criminal charges.
Gates' Past History in India
The complaint argues that Gates' history in India of testing vaccines on poor children of illiterate families, with disastrous consequences, shows a clear pattern of criminal activity worthy of the words "conspiracy" and "mass murder." Despite a "debunk" campaign of such "false conspiracy theories" against Gates, Gates' most prominent critic, nephew of the slain US president, Robert F. Kennedy Jr., will not let Gates' past in India die.
A typical "debunk" has a title such as "Fact Check: The Gates Foundation "tested a polio vax in India between 2000 & 2017 and paralysed 496,000 children." This "fact check" begins:
"A popular conspiracy theory on Facebook digs into Bill Gates' past to try to discredit his current efforts to speed up the development of a coronavirus vaccine. An April 13 post claims the Bill and Melinda Gates Foundation "tested a polio vax in India between 2000 & 2017 and paralysed 496,000 children.""
The debunk proudly proclaims that the post "was flagged as part of Facebook's efforts to combat false news and misinformation," that the story was also seen on another website "that has been known to publish misinformation."
The debunk concludes: "We found no credible news reports about 496,000 paralyzed children in India due to a polio vaccine."
But in his heavily footnoted April 2020 article "Gates' Globalist Vaccine Agenda: A Win-Win for Pharma and Mandatory Vaccination," Bobby Kennedy Jr. inconveniently dredges up a scientific study at the NIH's own website, "Correlation between Non-Polio Acute Flaccid Paralysis Rates with Pulse Polio Frequency in India."
That study concludes that between the years 2000 and 2017, when Gates was testing OPV in India (oral polio vaccine):
"there were an additional 491,000 paralyzed children above our expected numbers…our observation supports the hypothesis that the frequency of pulse polio administration [Gates' oral polio vaccine] is directly or indirectly related to the incidence of NPAFP"
NPAFP is a type of paralysis which may be caused by polio vaccines. (See; Why the Bill Gates global health empire promises more empire and less public health)
In other words, Bobby Kennedy, who has recently published the bestselling book The Real Anthony Fauci, is right.
Bill Gates Funded "Professor Lockdown," Neil Ferguson, Who Provided Blueprint for Isolation and Mass House Arrest
One little known facet of Gates' role in shaping the pandemic response, not mentioned in the complaint, is that Gates directly funded the Imperial College Professor who came up with the lockdown, social isolation, and social distancing theory which governments used to justify the "emergency powers" to order of business closings and to flex the muscles of other new, extraordinary powers. Prof. Neil Ferguson's now widely discredited paper underlies all new powers claimed by governments under the guise of public health emergency.
The paper is "Report 9 – Impact of non-pharmaceutical interventions (NPIs) to reduce COVID-19 mortality and healthcare demand."
Johan Giesecke, former chief scientist for the European Center for Disease Control and Prevention, has called Ferguson's model "the most influential scientific paper" in memory. He also says it was "one of the most wrong."
Gates gave nearly $8 million to Ferguson's MCR Centre for Global Disease Analysis in March and April of 2020, just as a rationale for lockdowns was needed by would-be tyrants. Ferguson delivered it.
Gates largess also included a separate, general grant of $79 million to Imperial College in March 2020.
Bill and Melinda Gates Foundation page at the website UK Research and Innovation, funding Professor Neil Ferguson (larger image)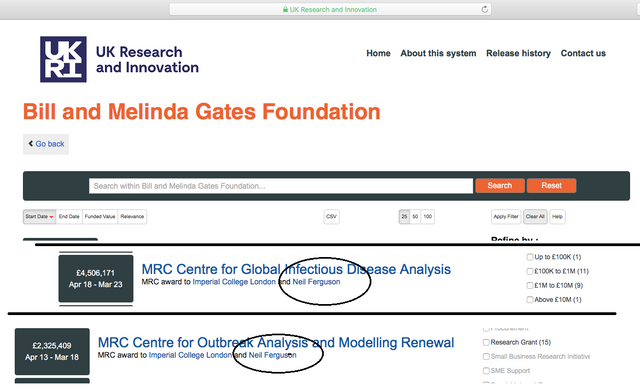 This shows yet another aspect of a coordinated, well-planned conspiracy, in all the major elements necessary to accomplish a push toward mandatory digital ID, tied to a single global database and artificial intelligence system, which can monitor and track every human who is not a member of a tiny elite, exactly as Klaus Schwab predicted.
Despite his purported concern for the world's health, Gates is an avid investor in Monsanto, whose blockbuster pesticide Roundup is a confirmed carcinogen, and has been outlawed in over two dozen countries.
And despite Gates' relentless focus on profitable universal vaccination and digital identification as the way to better health in poor countries, development experts point out that greater strides would be made simply with better access to sanitation and clean water.
Despite a carefully crafted image that Gates is a late-life billionaire who is now giving away his fortune, Gates' net worth has been steadily climbing as his giving has increased.
If a conspiracy to deprive non-elite humans of all autonomy and liberty is truly afoot, the success of the entire enterprise is dependent on the acceptance of the idea that the human, God-given immune system is obsolete.
For more connections between Bill Gates and the international COVID response see: "Here is Bill Gates' Vaccine Biochip Slave Platform, for Those Who Think it is Conspiracy Theory"
Below: Indian Bar Association attorney Dipali Ojha on criminal complaint naming Bill Gates
President George HW Bush Sr. Administration Official Catherine Austin Fitts Lays Out The Great Reset and How to Stop It (View at Bitchute)
Robert F. Kennedy Jr. and Catherine Austin Fitts Explain the "Great Reset" (view on Bitchute)
Related Next:
________________________________________________________________________
________________________________________________________________________