________________________________________________________________________
________________________________________________________________________
US Army Flight Surgeon Is Grounding "Vaccinated" Pilots, Citing Deaths, Calls for Halt to Shots for Military
________________________________________________________________________
Late-Breaking Related: Sen. Ron Johnson Sends Letter to Sec. of Defense Demanding Information on Shockingly High COVID-19 Vaccine Injury Among Military Personnel (Gateway Pundit)
________________________________________________________________________
Two active duty US Army doctors have filed affidavits in a lawsuit for a preliminary injunction in Federal District Court, before Judge Raymond P. Moore, United States District Court District of Colorado, under the Military Whistleblower Protection Act of 1988. The lawsuit calls for an immediate halt to further COVID-19 "vaccinations" for all military personnel. The lawsuit has been verified and reported in the Washington Times. One of the doctors, a US Army Flight Surgeon, has grounded all "vaccinated" pilots and air crew she is responsible for. [Military complaint and exhibits]
The shots are commonly referred to as "vaccines," but many scientists and doctors dispute that description. According to the Washington Times, Lt. Col. Long is assigned to the 1st Aviation Brigade in Ft. Rucker, Alabama, and is responsible for certifying the fitness of 4,000 flight-ready airmen
US Army Flight Surgeon, Lieutenant Colonel Theresa Long, swore out an affidavit which recommends the grounding of all "vaccinated" pilots.
Lt. Col. Long wrote:
"Today I received word of one fatality and two ICU cases on Fort Hood; the deceased was an Army pilot who could have been flying at the time. All three pulmonary embolism events happened within 48 hours of their vaccination. I cannot attribute this result to anything other than the Covid 19 vaccines as the source of these events. Each person was in top physical condition before the inoculation and each suffered the event within 2 days post vaccination"
The US Congress has just passed a bill which exempts its own members, and their staffs, from any government vaccine mandates, as reported by Newsweek.
Lt. Col. Long attested:
"I personally observed the most physically fit female Soldier I have seen in over 20 years in the Army, go from Colligate level athlete training for Ranger School, to being physically debilitated with cardiac problems, newly diagnosed pituitary brain tumor, thyroid dysfunction within weeks of getting vaccinated. Several military physicians have shared with me their firsthand experience with a significant increase in the number of young Soldiers with migraines, menstrual irregularities, cancer, suspected myocarditis and reporting cardiac symptoms after vaccination. Numerous Soldiers and DOD civilians have told me of how they were sick, bed-ridden, debilitated, and unable to work for days to weeks after vaccination. I have also recently reviewed three flight crew members' medical records, all of which presented with both significant and aggressive systemic health issues."
As reported in American Military News:
"A U.S. Army flight surgeon is warning that known side effects associated with the COVID-19 vaccines pose a potentially deadly risk to pilots and is alleging the Army isn't following Department of Defense protocols to screen pilots for those potentially deadly side effects."
In May, the Center for Disease Control and Prevention (CDC) recognized the risk of heart inflammation conditions like Myocarditis and Pericarditis associated with the two COVID vaccines.
Long said in her affidavit: "complications of myocarditis include dilated cardiomyopathy, arrhythmias, sudden cardiac death." She also shared an assessment, reported through the National Center for Biotechnology Information, U.S. National Library of Medicine, which states the long-term mortality rate for Myocarditis "is up to 20% at 1 year and 50% at 5 years."
________________________________________________________________________
________________________________________________________________________
Lt. Col. Long testified in the sworn affidavit under penalty of perjury:
"Literature has demonstrated that natural immunity is durable, completed, and superior to vaccination immunity to SARs-CoV-2. mRNA vaccines produced by Pfizer and Moderna both have been linked to myocarditis, especially in young males between 16-24 years old. The majority of young new Army aviators are in their early twenties…"
Lt. Col. Long says she will ground her pilots until the "health risks" of the shots "can be more fully and adequately assessed." She said:
"That, without any current screening procedures in place, including any Aero Message (flight surgeon notice) relating to this demonstrable and identifiable risk, I must and will therefore ground all active flight personnel who received the vaccinations until such time as the causation of these serious systemic health risks can be more fully and adequately assessed…."
Long petitions:
"That this Court should grant an immediate injunction to stop the further harm to all military personnel to protect the health and safety of our active duty, reservists and National Guard troops."
[Update September 2022: Internationally Renown, Formerly Pro-Vax London Cardiologist Calls for Halts to Shots
In London an internationally renown, formerly pro-vax cardiologist, Dr. Aseem Malhotra, has called for a "pause and reappraisal  of global vaccination policies for COVID-19." Dr. Malhotra writes in the peer-reviewed Journal of Insulin Resistance:
"Re-analysis of randomised controlled trials using the messenger ribonucleic acid (mRNA) technology suggests a greater risk of serious adverse events from the vaccines than being hospitalised from COVID-19."
Dr. Malhotra, who was one of the first prominent doctors to take two doses of the Pfizer vaccine, on "Good Morning Britain," now says that early release of the mRNA technology before clinical trials were fully complete and analyzed, Pfizer's on January 31 of 2023, was a "reckless gamble at best."]
Recently, an active-duty Navy commander appeared on Fox News to criticize Biden's military vaccine mandate. That commander wrote a letter arguing, "Further study is needed before committing the Total Force to one irreversible experimental group."
The legal actions take place as Dr. Anthony Fauci, who is in charge of fashioning public policy around COVID, is under a referral for investigation submitted by Senator Rand Paul, for lying to Congress in the matter of his NIH funding of gain-of-function research at the Wuhan lab in China, which serves as the bioweapons research arm of the People's Liberation Army.
It has not been answered why US government dollars would be going to labs fully controlled, like anything of importance in China, by the Chinese Communist Party. The Telegraph India has reported, in "China probed weaponising coronavirus in 2015":
Chinese scientists described SARS coronaviruses of which Covid is one example as presenting a new era of genetic weapons. The PLA papers referenced seem to fantasise that a bioweapon attack could cause the "enemy's medical system to collapse"."
The Moderna and Pfizer COVID injections are drugs which are still undergoing clinical trials which were approved by the FDA, which are not complete until the end of 2022 at the earliest. Nevertheless, the FDA has already approved both drugs for general use.
According to the clinical trials service Antidote.me clinical trials using animals, before a drug or vaccine is tested on people, last three to six years. The average time for bringing any new drug or vaccine to general use is 10 years.
Reported deaths possibly linked to the COVID injections have gone over 15,000, according to the CDC's VAERS reporting system, with 20,000 permanent disabilities, and over 400 miscarriages. One-third of the deaths occurred within 48 hours, in one large sampling. [UPDATE November 2022: VAERS reported deaths now over 32,000, permanent disabilities 60,000}
_____________________________________________________________________
Late Breaking: Brave Denver Police Officer Breaks Down, Now Crippled After Mandatory Jab, 'Can't Put My Kids to Bed' "Daddy's Broken" (view on Bitchute)
_____________________________________________________________________
The CDC itself acknowledges that vaccine adverse events are vastly underreported. A Harvard-Pilgrim study concludes that as little as 1% of events are reported.
The number of reported deaths and maimings from the ongoing clinical trials drugs is now many times the number of reported deaths from all vaccines combined since 1990, when the reporting system began.
Below source: The Desert Review. [UPDATE November 2022: VAERS reported deaths now over 32,000, permanent disabilities 60,000}
The FDA and NIH allow clinical trials data to remain secret.
in 1976 the Swine Flu vaccine program was halted after just 25 unexplained deaths, after being administered to 40 million Americans.
To date, more and more doctors are stepping forward warning against deadliness in the "vaccines," such as Dr. Ryan Cole, Virginia Commonwealth University School of Medicine, and the Mayo Clinic School of Medicine (Board Certified Anatomic and Clinical Pathologist.)
Below: Dr. Ryan Cole (view at Bitchute)
Below: Former Pfizer Chief Science Officer and VP Dr. Mike Yeadon Explains How Governments Pushing Dangerous "Vaccines" with the "8 COVID Lies" (view at Bitchute)
Above: Object found by Georgia Dr. Carrie Madej in Moderna "vaccine" under microscope, which moved and responded to light.
Soon after the Japanese Health Ministry withdrew 1.6 million doses of the Moderna injection, as a result of the discovery of "a substance that reacts to magnets" and a "black" substance, different scientists and doctors have examined vials of the injections under high-powered microscopes and reported horrific findings.
In Spain, an independent journalist Ricardo Delgado of La Quinta Columna ("The Fifth Column") says that he has provided a vial of the Pfizer injection to the University of Almeria for a contract analysis, and that results obtained by the team led by biochemistry Prof. Dr. Pablo Campra Madrid showed, to a strong degree of confidence, the presence of graphene oxide, a black nano-particle substance.
Prof. Campra's study and conclusions have been the subject of a campaign of "debunks," such as by Reuters, which twisted Campra's conclusion by taking out of context his words: "does not provide conclusive evidence." Reuters wrote:
"The allegations are based on an analysis by a professor in Spain which has been rejected by experts. He obtained what he himself described as non-conclusive results after studying one vial."
[English translation of Campra study}
But the professor's full statement reads:
"Microscopic study of the sample provides strong evidence for the probable presence of graphene derivatives, although microscopy does not provide conclusive evidence."
Reuters engages in a transparent deception by homing in on the hedge words "does not provide conclusive evidence," while omitting the thrust of the paragraph: "the sample provides strong evidence for the probable presence of graphene derivatives." This kind of dishonesty and disregard for readers' intelligence can be seen over and over in major media "debunks" of evidence of vaccine dangers. Reuters is a 150 year-old, previously trusted news institution.
Graphene-family nanoparticles (GFN) are highly toxic, and are capable of crossing the blood-brain barrier. The question must be asked, why are such strained attempts at lying, by major news organizations, taking place, if there is nothing to hide?
A UK alternative health practitioner is reporting that blood samples from "vaccinated" patients display blood cell clumping, dead and damaged cells, and unnatural microscopic tube-like structures.
Now Dr. Carrie Madej internist in Forest Park, Georgia who received her medical degree from Kansas City University of Medicine, reports that objects which seem to be alive are visible under a microscope are visible at 400x magnification in sample vials she received, of the Moderna and the J&J. Dr. Madej describes her findings in the interview below.
Below: Dr. Carrie Madej (view at Bitchute)
Other Countries Still Reporting Excellent Results with Ivermectin
Although in the US a full-blown campaign to suppress and dissuade the public and medical professionals from the use of a safe human drug, Ivermectin, in the treatments of COVID and all its forms, other countries such as India and Mexico say they have slashed COVID deaths by 80% or more through its use. In a recent media barrage it was dishonestly reported that Ivermectin is only for horses and livestock, when a human form of the drug has been available for more than 40 years, and enjoys a glowing safety profile.
COVID cases and deaths in Chiapas Mexico after Ivermectin Program. Source: "Epidemiologic Analysis on Ivermectin in COVID-19, July 2021"
Below: Case fatality rates in countries allowing hydroxychloroquin (HCQ) versus banning it for COVID. Source: Association of American Physicians and Surgeons
Bill Gates and Fauci Still Running the Show
As the Biden administration orders businesses to force their employees to submit to the still- experimental shots, on pain of families losing their livelihoods, a video repeatedly taken down on Youtube has surfaced again, of Bill Gates last year dictating that:
"normalcy only returns when we've largely vaccinated the entire global population."
Gates also said that: "you don't have a choice."
Little known to the public, and unreported in the mainstream media, at the start of the pandemic last year Gates directly funded the professor who created the "lockdown" theory, which was used by governments to justify vastly expanded powers over the individual in the name of public health.
Bill Gates, "Normalcy" (View at Bitchute)
Read next…
[End of article]
Mayo Clinic-Trained Pathologist Explains How Spike Protein "Vaccine" Injections May Be Killing Us, Congress Exempts Itself from Vax Mandates
Dr. Ryan Cole, MD holds medical degrees from Virginia Commonwealth University School of Medicine and the Mayo Clinic School of Medicine (Board Certified Anatomic and Clinical Pathologist.) Shows lab evidence that Pfizer and Moderna mRNA spike protein injections may be quietly killing injection recipients through "micro-clots," inflammation, and immune suppression.
Below: Dr. Ryan Cole (view at Bitchute)
Dr. Sucharit Bhakdi is Professor emeritus of the University of Mainz, where he served as the chair of the department of medical microbiology and hygiene from 1991 to 2012. From 1990 to 2012, he served as Editor in Chief of Medical Microbiology and Immunology. In 2001 he was awarded the Aronson Prize for achievements in microbiology and immunology.
Dr. Bhakdi is the co-author of "Corona, False Alarm? Facts and Figures," an Amazon bestseller since its publication in October 2020. In this presentation Dr. Bhakdi explains the biology of the terrifying possible dangers of the Pfizer/Moderna mRNA vaccines, and how their risk is unnecessary.
Dr. Sucharit Bhakdi, Professor emeritus of the University of Mainz (view at Bitchute)
Dr. Mike Yeadon
Dr. Mike Yeadon is former Chief Science Officer and VP at Pfizer for 16 years. (View at Bitchute)
Dr. Robert Malone, Inventor of mRNA Vaccine Platform
Dr. Robert Malone is the inventor of the mRNA platform while at the Salk Institute. He discusses the recent unexpected finding by a Japanese study.
Summary of Dr. Malone June 2021 Interview by Discernable (view at Bitchute) (Full Interview)
Above chart source: Bloomberg News
A UK alternative health practitioner is reporting that blood samples from "vaccinated" patients display blood cell clumping, dead and damaged cells, and unnatural microscopic tube-like structures. Philippe van Welbergen and his wife and co-practitioner, Gitta, are calling upon doctors, scientists, an independent to perform their own blood analyses. The findings are consistent with findings reported in a Wall Street Journal Dr. Joseph A. Ladapo, MD, PhD, UCLA Geffen School of Medicine, and Professor Harvey A. Risch, MD, PhD, Yale School of Public Health, that COVID shots are suspected of heart inflammation, thrombosis, death. Thrombosis is essentially blood clotting…. Read full article…
Other Expert Testimony
Inventor of mrna Tech Says FDA Was Aware of Spike Protein Dangers Before Granting "Emergency Use," Possible Shot-Related Deaths Skyrocket (Full Transcript)
Wall Street Journal: Pfizer/Moderna COVID Shots Suspected of Heart Inflammation, Thrombosis, Death
57 Top Scientists Explain How Future Vaccine Deaths May Be Indistinguishable From COVID Deaths
Links to doctors' calls for halts to mass "vaccinations," partial list: 1, 2, 3, 4.
Board Certified Occupational Therapist Whistleblower: More Patients are Dying from the Vaccine than from COVID (below)
Personal Stories, Ignored and Therefore Unverified by Major Media
Crippling COVID Experimental Vaccine Reactions – Video (View at Bitchute)
_________________________________________________________________________
_________________________________________________________________________
Minnesota Woman Loses both Legs and both Hands Following Second Pfizer COVID-19 Shot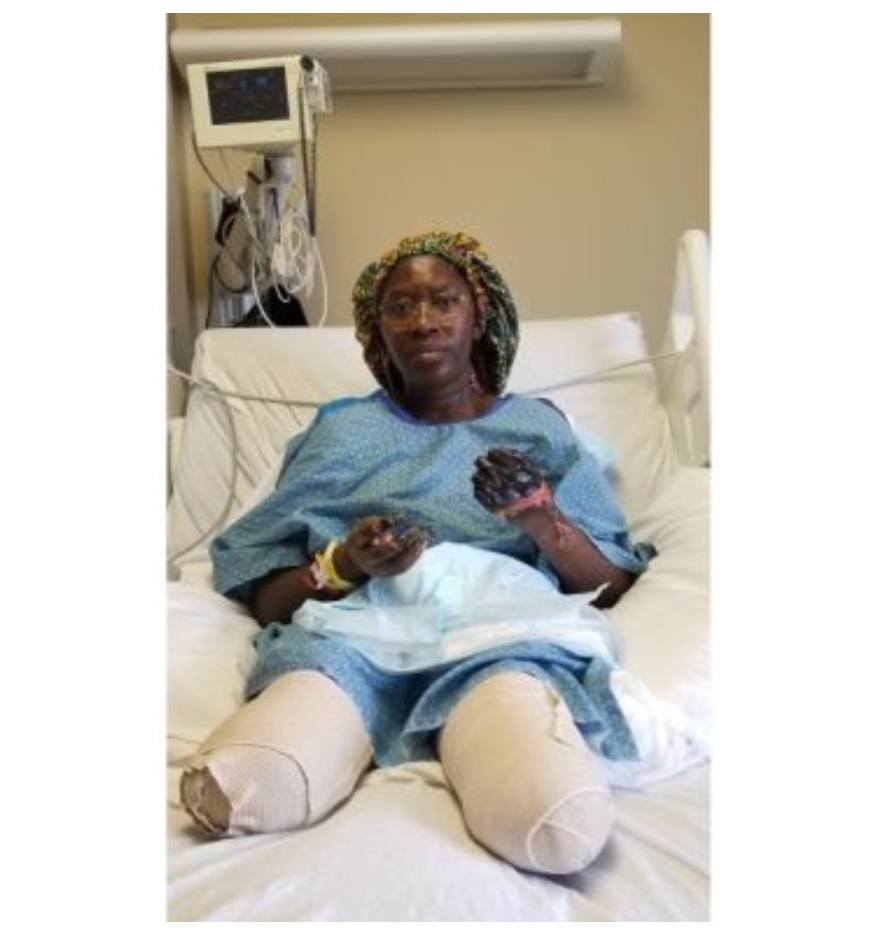 by Brian Shilhavy
Editor, Health Impact News
Jummai Nache, and her husband, Philip Nache, were born in Nigeria and came to the U.S. to settle in Minneapolis a few years ago, working with the Southern Baptists to plant churches among the African communities living in Minneapolis.
They were reportedly forced to leave Nigeria due to the "Boko Haram terrorist group," and eventually ended up in Minneapolis serving as missionaries with the Southern Baptists.
Tragically, it appears that the Naches have adopted many of the American Christians' values here in the U.S., which includes participating in and trusting the corrupt medical system.
Jummaci was working as a medical assistant in a clinic in Minneapolis and was instructed to take the COVID-19 "vaccines."
She complied, and immediately after getting the second injection, according to her husband, "she started to experience chest pain at work."
Things went down hill fast after that, as the all-too-familiar symptoms of blood clots, a known side effect of the Pfizer COVID-19 shots, were found in her heart, and today she has had both legs amputated, and will also have to have both of her hands amputated.
Her case is supposedly "rare," as her husband reports that after the CDC and "70-80" doctors investigated her case, and reported back to him:
"the CDC sent us a letter of their conclusions which stated that Jummai was infected with MIS-A and covid-19, but they cannot conclude whether the covid-19 vaccine contributed for now."
Her entire story is published on their GoFundMe account, written by her husband, where they are trying to raise money for their medical expenses.
Having covered hundreds of deaths and crippling injuries following these COVID-19 shots now, I must admit that this one really hit me hard emotionally, especially seeing her photo.
I was immediately reminded of the verse in the Bible from Hosea 4:6 which states: "My people are destroyed from lack of knowledge."
I also remembered what Dr. Sherri Tenpenny said in May of 2020 last year, more than 6 months before the COVID-19 "vaccines" were even authorized in an interview with Brian Rose, where she agreed with Dr. Judy Mikovits that up to 50 million people in the U.S. could die from these "vaccines," but that some people will survive and wish they hadn't.
"There are some things worse than death." (Source.)
I am not saying that this is the case for Jummai Nache, as it appears she has a very strong community surrounding her that will help her through this, but when are people going to wake up and realize that the medical system and the medical political agencies that are supposed to "regulate" them are not looking out for our best interests, but only their own, and that to trust in them as a supposed "believer" is actually idolatry?
Some excerpts from her husband's GoFundMe page:
"This is the story about my wife Jummai.
She is a medical assistant who worked in one of the clinics in Minneapolis MN, where she was instructed to take the covid-19 vaccine.
After receiving her second Pfizer Covid-19 vaccine on February 1, 2021 she started to experience chest pain at work.
Three days after the chest pains I took her to Urgent Care on February 6, 2021. After the checkup, EKG and other tests, the doctor said there was nothing wrong with her chest and every test showed she was okay.
She took a covid-19 test and the next day was confirmed positive. Jummai and I were shocked when we received the result that she was covid-19 positive because she had not manifested any symptom before taking the shot.
But we later accepted that perhaps, the virus and the vaccine together contributed to the adverse reaction on her body based on the report of the Infectious Disease physician that Jummai was asymptomatic.
So Jummai followed the CDC guidelines but then a few days later she ended up at Fairview ER and then was transferred to U of M medical center.
The next day, 2/14/21 the doctor called and told me that her heart was deteriorating, her oxygen levels and blood pressure were low and she needed to be put on a ventilator. I gave approval for them to proceed with the ventilator as needed.
The Infectious Disease Dr considered the test results, Jummai's condition, the timeline of the administered vaccine and the onset of covid 19, realizing the vaccine might have caused the adverse reaction.
But the Dr always concludes that this is just a theory which cannot be verified because they do not have testing equipment to clearly state that the vaccine has caused Jummai's devastation.
Whatever the cause may be, my wife is suffering unbearable excruciating pain and permanent catastrophic damage. The consequences of the adverse event are as follows: 1. Arterial blood clot; 2. Respiratory distress—ventilator; 3. Cardiomyopathy; 4. Anemia; 5. Damage to fingers of both hands and toes of both feet; 6 Ischemia; 7. MIS-Multiple Inflammatory Syndrome.
As a result of the above complications, the Infectious Disease Dr decided to forward the case to CDC.
According to the Dr, after going back and forth with the CDC, they decided to meet to deliberate with many experts around the country in which about 70-80 doctors met on a virtual call to discuss Jummai's case.
About 8 weeks after the meeting the CDC sent us a letter of their conclusions which stated that Jummai was infected with MIS-A and covid-19, but they cannot conclude whether the covid-19 vaccine contributed for now.
Since Jummai's blood specimen which was taken at the onset of this nightmare is saved in the lab, we pray for God's provision of a separate body of experts who could study Jummai's very unique case to draw other conclusions.
As the CDC related, Jummai's case is very unique. Since my request to be in that meeting was not granted, I submitted the following questions for the CDC experts' response:
1. When her symptoms started, I was with her, eating and sleeping together, but I tested negative and did not have any symptoms. Why am I not positive?
2. If she got the vaccine before the virus or got them at the same time, did the clashing of the covid-19 and the vaccine cause such adverse reactions? Why didn't the CDC or Pfizer let us know? Or why wouldn't they ask everyone to be tested for covid-19 first, before taking the vaccine?
3. If the vaccine is meant to defeat the virus, either by destroying it or weakening its effect, why the adverse severe damage? If the vaccine did not work to defeat the virus, what role was the vaccine playing in Jummai's body?
On one occasion, the doctor called and told me that Jummai could die at any moment, but God preserved my wife's life in a miraculous way in response to all the prayers of the church."
Read the full article at GoFundMe.
Below: Clip from vaccine injury hearings, held by US Senator Ron Johnson (view at Bitchute)
Below: Tucker Carlson Speaks with Victims' Family (view at Bitchute)
Below: COVID19 mRNA Injection Victims and Families Facebook Scroll, the True Toll – Partial Record (view at Bitchute)
Below: Serious Vaccine Injury Testimony, Panel Held by US Senator Ron Johnson, June 22 (view at Bitchute)
Below: On the corruption of the "Medical Establishment": '"The Illusion of Evidence-Based Medicine"
See Also:
COVID-19 Bioweapon Injection Casualties List