Massachusetts Governor Charlie Baker has detailed a plan to distribute a coronavirus vaccine as soon as it is available, as recommended in President Trump's Operation Warp Speed plan.
WBUR Boston reports:
"Massachusetts has filed an interim plan for distributing coronavirus vaccines, as required by the CDC.  The state plan follows the CDC's playbook…Pfizer, one of the first four companies expected to release vaccines, said yesterday that it may submit data to the Food and Drug Administration for review by mid-November. FDA officials have said it could take weeks to review that data and determine if a vaccine is safe and effective. Pharmaceutical companies, including Pfizer, are producing mass quantities of their vaccine in anticipation of approval."
In August Gov. Baker mandated that all Massachusetts schoolchildren, K-12, college, and university, would have to take flu shots in order to attend school.  The mandate has sparked a backlash among parents against the requirement, who say some studies show that a phenomenon called "viral interference" may make flu-vaccinated children more susceptible to severe cases of COVID, if exposed.  Dr. Anthony Fauci has affirmed the possibility of viral interference.
The anti-flu-shot-mandate parents group has filed a class action lawsuit against Baker, and has adopted the name "Flu You, Baker."  It is fully expected that Baker will also make a COVID vaccine mandatory across the population.
Trump has said repeatedly that the US military will be involved in various stages of Operation Warp Speed, imparting the program with veils of secrecy.  NPR recently reported:
"Instead of entering into contracts directly with vaccine makers, more than $6 billion in Operation Warp Speed funding has been routed through a defense contract management firm called Advanced Technologies International, Inc. ATI then awarded contracts to companies working on COVID-19 vaccines.  As a result, the contracts between the pharmaceutical companies and ATI may not be available through public records requests, and additional documents are exempt from public disclosure for five years."
COVID vaccine makers also have been granted exemptions from liability for any damages their vaccines may cause.  In September on Fox Business, HHS Secretary Alex Azar said:
"Under the PREP Act, which is a provision in Congress, any treatment or vaccine for purposes of a national emergency pandemic like this actually comes with liability protection. Both the product as well as those who administer it or provide it."
"Safe vaccination" activist and nephew of the slain president JFK, Robert F. Kennedy Jr., has cited studies saying that coronavirus vaccine development has been beset by "frightening" safety problems in the past, due to hyper-inflammation syndrome killing animal subjects, such as ferrets, when they were exposed later to wild virus.
Kennedy Jr. also said that it was Bill Gates who has lobbied for shielding vaccine companies from liability or damages.  Gates found himself in trouble in India in the past for giving thousands of Indian girls whose families could neither read nor write vaccines for HPV, in violation of consent laws.  Thousands of the girls got sick and some died.
Doctors Call for Nuremberg Trials Over "Orchestrated" COVID Panic
Doctors and scientists are also stepping forward to say that there is too much coordination and blatant misinformation around a fear campaign for it to be an accident.  Many  pummel the test used to announce new COVID cases as wildly inaccurate, delivering false positives from half to "most of the time."
Dr. Mike Yeadon, a former Chief Science Officer and VP at Pfizer, writes in his recent piece "Lies, Damned Lies and Health Statistics: The Deadly Danger of False Positives":
"I have explained how a hopelessly performing diagnostic test has been, and continues to be used, not for diagnosis of disease, but it seems solely to create fear.   More and more scientists, but also lawyers, recognize that, as a result of the deliberate panic-mongering, and the corona measures enabled by this panic, democracy is in great danger of being replaced by fascist totalitarian models. "
Dr. Yeadon and other doctors and scientists scream to the deaf ears of politicians that there is no correlation between new cases, many of them false, and deaths.  They hold that much more is understood about the COVID-19 virus than is being reported, and that any second wave will likely be entirely manufactured out of "new cases."
In graphs derived from CDC data, it can be seen that in countries with very different responses to COVID, deaths peaked similarly in April/May, then flattened around the end of June.  It can also be seen that the red line for "new cases" swings wildly regardless, and is not related to any increase in deaths.
Dr. Yeadon and colleagues hold that the pandemic has been "fundamentally over" since the end of June, and that we are now in the midst of a brutal attack perpetrated by governments upon basic rights.  Brutal, because the cost of "lockdowns" is now far outrunning the toll of the virus.
The revised CDC survival rate estimate for COVID-19, known since the end of May, is about 99.8%, bringing it into line with normal influenza (flu.)  In Sweden, despite never locking down, requiring "social distancing," or requiring masks, the Swedish death rate from COVID is lower than the US, Italy, Spain, the UK, Belgium, and many other countries which locked down harshly.
This month in Germany, the World Doctors' Alliance, a group founded by German physician Dr. Heiko Schoning, made a call for accountability for the perpetrators of what they say are exaggerations and outright lies over the severity of the COVID crisis.
The doctors say that the danger from the virus is greatly exaggerated.
Florida's Gov. Ron DeSantis, who earlier this month rescinded all lockdown orders and state mask mandates, seems to agree.  DeSantis has become the first US governor to completely lift all restrictions.
The World Doctors Alliance recommends a book recently translated into English from German, "Corona, False Alarm?: Facts and Figures" by Karina Reiss Ph.D. and Sucharit Bhakti MD.
In a conference this month in Berlin, the World Doctors Alliance made the statements (transcript of remarks):
"We are trying to bring the truth to the public.  It is not as dangerous as it has been orchestrated," and,

"It is not as terrible as the media are telling you…the hospitals are not full, the tests that are provided don't work," and,

"Lockdown has caused more harm than the virus has, and we are here to bring an end to it, and to restore freedom to the world."
As the doctors sat shoulder-to-shoulder on the stage denouncing the "new normal," Swedish MD Dr. Mikael Nordfors said:
"We will arrange a new Nuremberg Trials, hopefully in Nuremberg, to litigate against all the criminals behind this hoax."
Bill Gates has recently gone on television to warn that a second wave is coming, justifying further lockdown.  Gates has said:
"[we cannot] go back to truly normal until we have a vaccine that we've gotten out to basically the entire world."
In contrast to pro-vaccine Gates, who has no medical degree and dropped out of Harvard College, the former Chief Science Officer at Pfizer, Dr. Yeadon says:
"There is absolutely no need for vaccines to extinguish the pandemic. I've never heard such nonsense talked about vaccines."
More Questions Than Answers
Death counts are also being questioned, as a result of revelations such as that some hospitals were paid up to $306,000 per each declared COVID case under the The Coronavirus Aid, Relief, and Economic Security Act, (CARES Act,) on top of a 20% Medicare add-on for new cases.
As well, Gov. Andrew Cuomo, with by far the highest number of COVID deaths in New York, is under probe by the US Department of Justice for his role in transferring hundreds, if not thousands, of COVID patients into nursing homes.  Nursing home executives are on-record saying Gov. Andrew Cuomo has "blood on his hands."    The transfers, even by Cuomo's admission, contributed to a wave of deaths in the Spring which shocked the nation.
Cuomo said the nursing home transfers acted as "fire through dry grass."
Nevertheless, it was Boston residents, not Cuomo, whom Boston Mayor Marty Walsh lectured like children, threatening further lockdown measures if they were not "responsible" for slowing the spread of new cases.   A far cry from "flattening the curve" which governors and mayors with heady new powers based on "new cases" requested six months ago.
The television news media also has entirely overlooked the irresponsible behavior of Dr. Anthony Fauci  in awarding over $ 7 million in NIH grants to Wuhan Labs in China, over the course of six years ending in 2019, for coronavirus research on bats that was considered so dangerous it was banned in the US.  This was the subject of an extensive and damning report in Newsweek this summer, "Dr. Fauci Backed Controversial Wuhan Lab with Millions of U.S. Dollars for Risky Coronavirus Research."
Obviating the need for any speculation that COVID death counts are inflated, US health officials have lapsed into moments of perilous candor.  Dr. Deborah Birx of the US Coronavirus Task Force said in April:
"If someone dies with COVID-19 we are counting that as a COVID-19 death."
On the free-wheeling Internet, Gov. Cuomo is now commonly referred to as "Killer Cuomo."
For his part, Bill Gates is now known to have funded the primary academic author of the paper which provided the rationale for the present world of "social distancing" and economic shut-downs, Professor Neil Ferguson of Imperial College.
The Bill and Melinda Gates Foundation page at the website UK Research and Innovation shows a total of about $8 million (6.7 million Euros) in funding from the foundation to the research work of Ferguson, between April 13 and March 28 of this year. The title of the world-changing paper by Ferguson is "Report 9 – Impact of non-pharmaceutical interventions (NPIs) to reduce COVID-19 mortality and healthcare demand"
Bill and Melinda Gates Foundation page at the website UK Research and Innovation, funding Professor Neil Ferguson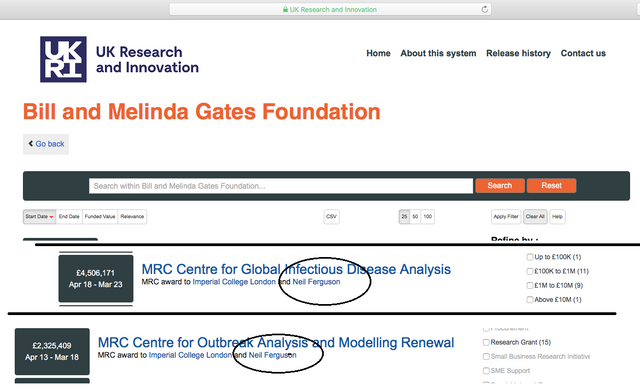 In 1957 and 1968, the US and the world lived through similarly severe pandemics, but few people at the time even knew about them.
As Dr John Lee said recently:
"The whole covid drama has really been a crisis of awareness of what viruses normally do, rather than a crisis caused by an abnormally lethal new bug"
Former Pfizer wonderboy Dr. Yeadon laments:
"We are now walking around wearing masks! Those of us who've studied the practical challenges of getting inhaled drugs into the right places in patients lungs – to treat asthma, for example – know full well that such flimsy pieces of cloth absolutely do not prevent the transmission of respiratory viruses.  It seems not to be understood that in the 'hierarchy of medical evidence', the results of a well-conducted, randomized clinical trial is not superseded by someone showing you a video of vapour moving around a person's head."

World Doctors Alliance: New Nuremberg Trials
Also Recommended
Tech Giants Google, Oracle to Monitor Americans Who Get COVID-19 Vaccine
Sweden Shreds Mask Advocates, With No Masks or Lockdown Has 12% Lower COVID Death Rate Than US
The Book That Got the Anti-Lockdown German Doctor Arrested! "False Alarm" Learn the Truth
US Hospitals Received Up to $306,000 for Each New COVID Case; German Anti-Lockdown MD Arrested
CDC Says Common Cause of Death, Heart Attack, Is Counted as COVID Death if Victim Suspected of COVID
Federal Judge Strikes Down Pennsylvania Coronavirus Restrictions
Justin Trudeau Forcibly Removes Alleged COVID-Positive People From Homes to "Secret" Location, Ignores Flu-Like Survival Rate of Bug